Review Date: December 15th, 2000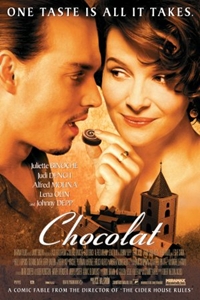 Stunningly beautiful Juliette Binoche is the chocolate maker who opens shop in a sleepy French village to awaken the towns people's desires, while becoming a thorn in the puritanical mayor's side.

Story

Things haven't changed much in this small town where everyone faithfully goes to mass each week and widows stay dressed in black for life. Enter Vianne (Binoche), a single mother with ancient Mayan chocolate recipes that awaken the villagers out of their "slumber" and revive their deepest desires. Soon after they taste Vianne's delightful chocolates, grumpy couples are making love like newlyweds, estranged relatives are speaking to one another once again and a battered wife finds the strength to stand up for herself. This causes change in a town that has remained the same since the World War I - change that the mayor is adamant on putting a stop to, personally.

Acting

Binoche's Vianne is a delight to watch on the big screen, playing a complicated character filled with wisdom, strength, grace and the tenderness of a mother. Judi Dench's portrayal of a hard-nosed landlord eager to spend time with her estranged grandson provides the right blend of comical relief in this gem. Johnny Depp provides plenty of sex appeal as the drifter who brings more "trouble" to the town, but offers little depth to his character.

Direction

Director Lasse Hallstrom's follow-up to "The Cider House Rules" is a true winner and deserving of an Oscar nomination. The story of how a single woman and her sweet delicacies can have such a profound impact on a staunch, rigid town captivates with real-life drama and light comic relief. Although Binoche is the messenger, Hallstrom never lets the viewer forget what's at the core of this sweet tale and the remedy to the villagers' disease: the rich sweet taste of Vianne's chocolate. From the kitchen scenes where Vianne stirs the creamy brown liquid to her beautifully decorated shop, the tantalizing chocolate is never far from the camera's lens.

Bottom line

Don't underestimate the power of Chocolat.