Review Date: April 20th, 2012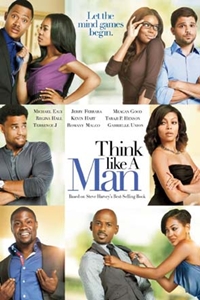 It's hard to fault Think Like a Man for being pretty much what you'd expect an ensemble romantic comedy based on a dating advice book by Steve Harvey to be. Yes, it is sexist. Yes, the women manipulate the men with advice from Steve. Yes, the men realize how and why they're being manipulated and turn the tables on them by doing exactly what the women want them to do, eventually realizing the women were right all along. As for Harvey, at least one character quotes him, and he even shows up as a show-within-a-movie talking head in cutesy interludes. His book shows up so often, I'm surprised you don't get a free copy with your ticket.

ALTLuckily, an entertaining and diverse cast and some decent patter save the movie from its source material — mostly. Meagan Good plays party girl Mya, who's going 90 days without sex, but is starting to date Zeke (Romany Malco) the player. Jerry Ferrara is serviceable as Jeremy, a nerdy guy with low aspirations whose awesome girlfriend, Kristen (Gabrielle Union), is tired of waiting for him to pop the question. Regina Hall plays Candace, a single mom who is falling for a charming and sensitive mama's boy named Michael (Terrence J). Last but definitely not least, the Oscar-nominated Taraji P. Henson takes on the role of the hardened career woman — as Harvey puts it so charmingly, the woman who is her own man — who's forced to rethink her high standards when she begins seeing a dreamy-eyed cook named Dominic (Michael Ealy). Rounding out the cast is Kevin Hart as Cedric, a guy who is constantly complaining about his soon-to-be ex while loitering in Zeke's sweet pad…and generally being kind of obnoxious. Gary Owen plays their one happily married buddy; in a comedy about romantic dysfunction, it's a thankless task to be the guy who actually wants to go home and cook dinner for his wife. Oh, and Chris Brown appears as Mya's one-night-stand who can't remember her name. And not just the morning after, either — he runs into her several times throughout the movie and manages to screw it up every time.

Chris Brown is a terrible actor. On top of that, the grossness of casting him as a player who pops up to call Mya by the wrong name and remind her over and over again that she slept with a jackass is distasteful at best. The opening shot of the film, lingering on his bare chest as he stretches out in Mya's bed irresponsibly, suggests that the audience should still think he's desirable. He's only been cast for his supposed sex appeal, which, given his history of violence against women, is abhorrent. (The same goes for Charlie Sheen, whose smirking visage makes one want to smash the TV whenever it appears.)

What Think Like a Man does do is successfully portray a diverse group of friends in a way that can appeal to most mainstream audiences. There's enough "guy humor" in here to entertain male moviegoers — especially with Kevin Hart and Turtle from Entourage on hand. And for the ladies, there's romance, little nuggets of truth (Mya's granny panties, for instance), and a cool cast. Think Like a Man tries to distance itself from being pegged strictly for African-American audiences; the writers even make a crack or two about Tyler Perry, which is pretty bold for a movie that features two actresses that have worked with Perry (Union and Henson). The guys joke among themselves about race, and the interracial relationship between Union and Ferrara's character is shown as a total non-issue, neither a point of contention nor as some sort of PC do-goodery. Broadening the scope of the actors we see onscreen and the kinds of roles they have is a good thing, even in an imperfect vehicle. The movie-going public can use a comedy that bucks the race-based marketing system.