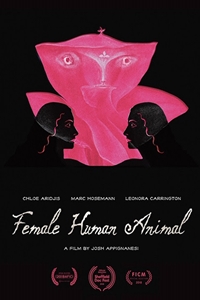 synopsis
Shot in the real-life contemporary art world, FEMALE HUMAN ANIMAL is a darkly romantic psychothriller about a creative woman disenchanted with what modern life has to offer her.When writer Chloe Aridjis curates the Tate retrospective of the surrealist Leonora Carrington, an elusive, brooding man appears, seeming to offer more. But is she hunter or hunted?

"Unnerving, riveting, and mesmerising.... The unity of Appignanesi's brilliant cinematic vision and Aridjis' compelling and vulnerable performance makes Female Human Animal resonate." LITTLE WHITE LIES
"Near-uncategorisable. It punctures the pretentiousness of the art world-- and it's a triumph." THE OBSERVER
details
Documentary
1 hr. 14 min.

To get the full Quicklook Films experience, uncheck "Enable on this Site" from Adblock Plus
synopsis
Shot in the real-life contemporary art world, FEMALE HUMAN ANIMAL is a darkly romantic psychothriller about a creative woman disenchanted with what modern life has to offer her.When writer Chloe Aridjis curates the Tate retrospective of the surrealist Leonora Carrington, an elusive, brooding man appears, seeming to offer more. But is she hunter or hunted?

"Unnerving, riveting, and mesmerising.... The unity of Appignanesi's brilliant cinematic vision and Aridjis' compelling and vulnerable performance makes Female Human Animal resonate." LITTLE WHITE LIES
"Near-uncategorisable. It punctures the pretentiousness of the art world-- and it's a triumph." THE OBSERVER
details
Documentary
1 hr. 14 min.